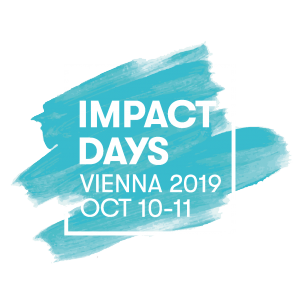 It's time to go beyond simply being aware of the challenges facing our society. It's time to take collective action for a better world.
Experience the power of collaboration for impact at Impact Days 2019, the annual conference that inspires, connects and empowers people and organizations to confront the most challenging issues of our time. Join us on October 10-11, 2019 in Vienna, Austria to learn from thought leaders, engage with inspiring stories of impact and collaborate with 300+ entrepreneurs, investors, executives, foundations and policymakers.
Formerly known as the CEE Impact Day, this conference celebrates its 8th year of supporting the impact innovation ecosystem in Central and Eastern Europe. In 2019 we renamed the event Impact Days, reflecting our ambition to transform Vienna into a global platform that supports impact at scale through collaboration, entrepreneurial action, and innovation.
Day 1
On October 10th, we invite practitioners, impact startups and organizations eager to discover the impact innovation field to join an afternoon of interactive peer-to-peer sessions focused on learning and exchange.Parallel, stakeholder-specific streams of content will take place in several venues across Vienna.
Together with 300+ leaders from across the impact ecosystem, get inspired and empowered to take next-level action for impact!